Bio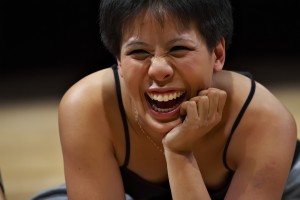 Choreographer and scholar, Cynthia Ling Lee instigates postcolonial, queer, and feminist-of-color interventions in the field of experimental performance. Trained in US postmodern dance and North Indian classical kathak, she is committed to intimate collaborative relationships, ethical intercultural exchange, and foregrounding marginalized voices and aesthetics.
Cynthia's interdisciplinary performance work has been presented at venues such as Dance Theater Workshop (New York), REDCAT (Los Angeles), East West Players (Los Angeles), Indonesian Dance Festival (Jakarta), IGNITE! Festival of Contemporary Dance (New Delhi), and Chandra-Mandapa: Spaces (Chennai).
Cynthia is a member of the Post Natyam Collective, a transnational, web-based coalition of South Asian-trained dance artists whose work triangulates between art-making, activism, and theory. Her other artistic partners-in-crime include director/dramaturg Alison De La Cruz; musicians David Cutler (jazz/new music), Ravindra Deo (Hindustani) and Loren Nerell (Indonesian/electronic); and visual artists YaYa Chou (sculptural installation), Carole Kim (multimedia) and Adnan Hussain (animation).
Recent publications include articles in Indian Theatre Journal and Dance Education Around the World: Perspectives on Dance, Young People and Change (Routledge) and co-written chapters with Sandra Chatterjee in Queer Dance: Meanings and Makings (Oxford University Press) and Studies in South Asian Film and Media.
Cynthia was the recipient of a Thomas J. Watson Fellowship for the study of religious dance in Thailand, India, and Brazil.  Other honors include an Asia-Pacific Performing Arts Exchange Fellowship, a Taipei Artist Village Residency, a NET/TEN grant, two Santa Monica Individual Artist Fellowships, and two Artists' Resource for Completion grants.  Influential teachers include Simone Forti, Eiko & Koma, Judy Mitoma, Pallabi Chakravorty, Bandana Sen, Kumudini Lakhia, Anjani Ambegaokar, and the contact improvisation community.  She is an executive board member of the Network of Ensemble Theaters, dedicated to propelling ensemble practice to the forefront of American culture and society, and an assistant professor of dance in the Department of Theater Arts at the University of California at Santa Cruz.